Cold Connection
Conestoga Cold Storage Works With ColdHubs on Solar Cold Storage Business in Owerri, Nigeria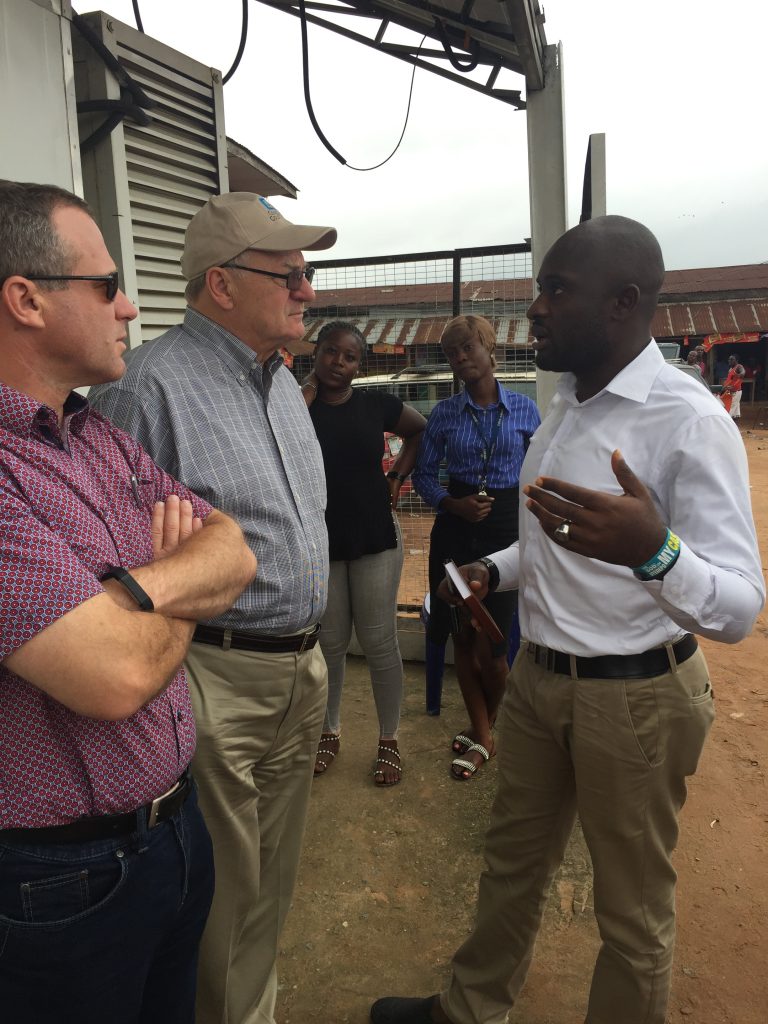 Conestoga Cold Storage President Greg Laurin (left) and Chairman Larry Laurin (second from left) speak with ColdHubs representatives in Owerri, Nigeria.
Since 2016, the Global Cold Chain Alliance (GCCA) has partnered with the Global Alliance for Improved Nutrition (GAIN) to provide technical assistance to cold storage companies in Nigeria. The interest and support from GCCA membership has already resulted in four companies receiving guidance and advice from GCCA members with two more planned for September.
In August 2017, Conestoga Cold Storage Chairman Larry Laurin and President Greg Laurin flew with GCCA International Projects Director Amanda Brondy, to Owerri, Nigeria. Owerri is about 45-minute drive from Port Harcourt. GCCA member ColdHubs is starting up a business in the fruit and vegetable market for solar-powered cold storage.
Product loss for fruits and vegetables can exceed 50 percent, especially for highly perishable products such as tomatoes which are transported 16 hours in unrefrigerated trucks on rough roads. The vendors selling these product in the market have had no access to cold storage, and in order to sell the products are forced to reduce the price throughout the day, resulting in large economic losses.
The ColdHubs model is designed to attract those vendors and retailers looking to reduce these losses. It costs 100 Naira (about USD 30 cents) to store one crate of product for 24 hours in the hub where the temperature is maintained at 12-degrees Celsius. Since the hub first opened in March, 37 retailers and vendors are using the service. Capacity is at approximately 75% and given the size of the market in Owerri, there is room for growth.
The Laurins visited ColdHubs in August, which proved to be a critical time for the business. Spending three full days with the team, discussions and advice ranged from profitability to general business practices, financing, materials, growth, roles and responsibilities, and engineering. ColdHubs took specific note of recommendations to maximize space by relocating plans for an office; to install a window to pass crates and reduce energy expenditures; and redesign plans for ColdHubs 2.0.
"Participating in a GCCA project was an exciting opportunity for us and I would recommend the experience to all members," Greg Laurin noted when asked about the experience. "The education and advice our membership can provide start up cold chains such as the ones we visited in Nigeria is not only invaluable, but sincerely appreciated. Through education and outreach, we can help strengthen the cold chain and increase demand for our services as well as ensure the future growth of the frozen food market. Globally, there are millions of customers outside of the modern cold chain. Our industry's personal involvement in the emerging cold chain will not only increase the strength of the industry worldwide, but has the potential to significantly reduce food waste, improving the daily lives of millions of people."