Cold Connection
GCCA Collaborates with USAID and CNFA to Improve Cold Chain in Republic of Georgia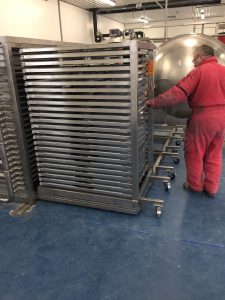 An engineer from the dryer supplier demonstrates to Gemuani how the freeze dryer is loaded and unloaded.
The Global Cold Chain Alliance (GCCA), through its Core Partner, the World Food Logistics Organization (WFLO), has worked on nearly 100 projects in over 60 different countries in an effort to grow the global cold chain by helping lower-income countries solve their cold chain challenges.
Among these projects, GCCA has supported a United States Agency for International Development (USAID) project in Georgia since 2013, working in partnership with Cultivating New Frontiers in Agriculture (CNFA), an international non-profit organization that works to stimulate economic growth, improve livelihood, and support agricultural development. The project supports businesses who collect and store fruits and vegetables, and has recently relied on GCCA to locate experts in areas such as grape storage, apple storage, and freeze-drying production. Two of these assignments took place in January 2017, with more scheduled in the upcoming months.
"So often in our daily lives we scratch and scrape to squeeze out a one percent contribution margin gain," Douglas Fruit Co. General Manager Paul Esvelt said. "Working in a project like this gives a professional the opportunity to be immersed in a situation where massive opportunities for improvement are everywhere. I find it revitalizing."
Esvelt traveled to Georgia for a week in January to consult with three cold storage businesses on specific recommendations for how to improve their storage of apples. Esvelt, a postharvest expert, created tailored checklists for each company that help monitor and ensure that best practices are followed by their employees.
"In the [United] States, we can easily fall into the trap of thinking that the way we do things is the only way it can be done," Esvelt said. "Traveling abroad helps ease that ignorance, and in my case, gave me an idea for a secondary product I can make with apple by-product." An engineer from the dryer supplier demonstrates to Gemuani how the freeze dryer is loaded and unloaded.
Mark Harvey, a UK-based IQF specialist, also traveled to Georgia in January for an assignment that focused on Gemuani, a company expanding their processing facility to include freeze-drying of local fruits, berries and vegetables. Gemuani is the only company in Georgia and the South Caucasus region in general, using freeze-drying technology. The information provided by Mark included training and best practices to ensure Gemuani's experience and investment will not be wasted.
This was Harvey's first experience with GCCA and with international projects.
"Yes, absolutely," Harvey said in response to whether or not he would recommend a GCCA project such as this to others. "Just don't expect to be able to walk in and walk out a few days later with the job done. People will come to trust and rely on you, of course you will want to repay that trust at the time of the visit and in the future. The chances are that you are making friends and contacts for life."
GCCA members interested in participating on a future project are encouraged to click here for more information or contact Amanda Brondy at abrondy@gcca.org.