Member Connection
Frick Introduces Innovative Low Charge Central System (LCCS)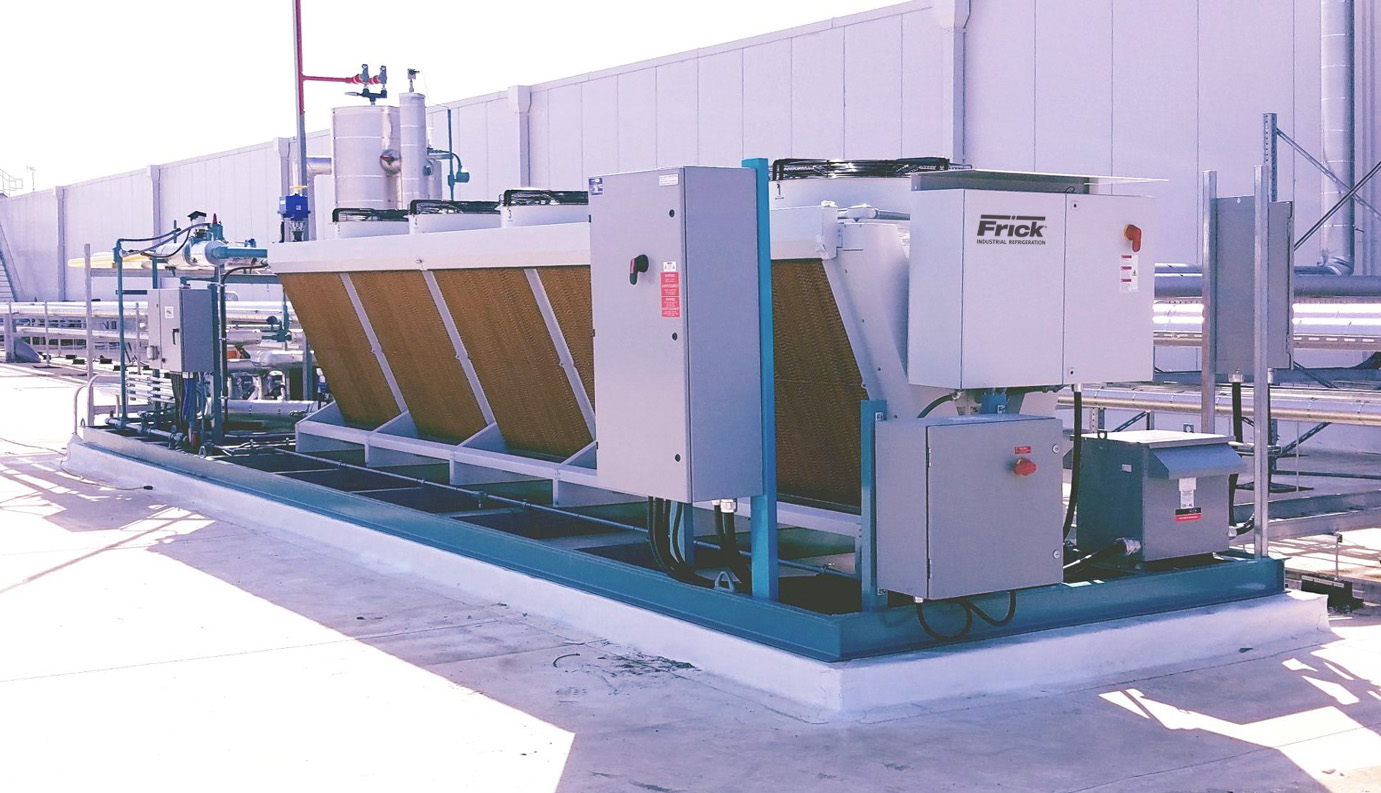 May 11, 2018 WAYNESBORO, PA – The new Low Charge Central System (LCCS) from Frick® Industrial Refrigeration is a reliable, high efficiency central refrigeration system with a total system ammonia charge of approximately 1.5 to 3 pounds per ton of refrigeration, or 85 to 95 percent less than traditional central ammonia systems.
The LCCS is the only centralized system in the super-low charge category (less than 5 lbs/TR).
"Among super-low charge refrigeration systems, our new LCCS offers enhanced reliability and efficiency," says Joseph Pillis, P.E., Frick's director of engineering, Industrial Refrigeration. "And its flexibility allows it to be customized to any plant's specific refrigeration needs."
This reduction in refrigerant charge may enhance the safety of food and beverage plant personnel and people living or working in the vicinity of a plant. In addition, the low charge can in some cases ease the regulatory burden and compliance costs for facilities.
The system's driving innovation is localized condensing made possible via remote distributed condensing (RDC) units that are managed by Frick's patent-pending control system. Instead of feeding centrally condensed liquid ammonia through the system, only ammonia vapor is distributed through the plant. It is then condensed locally, near the evaporators.
The RDC units, which include a condensing heat exchanger (adiabatic, plate & frame, air-cooled or evaporative) and a small liquid supply vessel, are placed near DX evaporators, at the point of liquid use.
As a result of the RDC units, the new system eliminates centralized condensers, the high-pressure receiver and large, long supply and return lines full of pumped liquid.
According to Pillis, "Frick's proprietary, state-of-the-art controls monitor and control liquid levels to make sure we don't run out of liquid in places where it's needed."
The modular nature of each RDC and associated evaporators makes the Frick LCCS system extremely flexible in design and installation, both for greenfield projects and existing plant expansions.
The design of the patented Frick LCCS retains a traditional engine room, which offers the same flexibility, efficiency and familiarity as a traditional liquid recirculation system, but it contains only compressors and a control panel – no liquid ammonia storage vessels. This allows the use of larger, more efficient compressors (up to 25%) than those found in many packaged systems.
Moreover, to date, all low charge solutions have been based on providing rooftop packages, which often require costly alterations to the building structure. With Frick's LCCS, such accommodations are generally not necessary: The technology can be easily retrofitted to an existing facility. And, since compressors are in the engine room and not on the roof, they can be conveniently serviced out of the elements.
Pillis concludes, "Direct and open access to key components makes it easy for inspection, test and maintenance and maximizes worker safety. The modular remote distributed condensing concept enables projects to be scalable based on the application needs."
For more information
John Gay, Marketing Manager, Industrial Refrigeration,
Phone: 717-765-2418
Cell Phone: 717-891-5935
About Frick
Johnson Controls manufactures a full line of Frick brand industrial refrigeration equipment for Food and Beverage applications. We make Rotary Screw Compressor Packages and Packaged Equipment with or without Variable Speed Drives. Models are available with capacity control from 100% down to 10% of full load. We also make Condensers, Evaporators, AcuAir® Hygienic Air Handlers, Vessels, Heat Exchangers and Controls. Our Quantum™ HD control panels with state-of-the-art technology lead our industry in performance and reliability.
About Johnson Controls
Johnson Controls is a global diversified technology and multi-industrial leader serving a wide range of customers in more than 150 countries. Our 120,000 employees create intelligent buildings, efficient energy solutions, integrated infrastructure and next generation transportation systems that work seamlessly together to deliver on the promise of smart cities and communities. Our commitment to sustainability dates back to our roots in 1885, with the invention of the first electric room thermostat. We are committed to helping our customers win and creating greater value for all of our stakeholders through strategic focus on our buildings and energy growth platforms. For additional information, please visit http://www.johnsoncontrols.com.