Don Schlimme Future Leader Award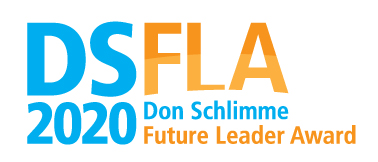 Organized by the Global Cold Chain Alliance and its Core Partner the International Association of Refrigerated Warehouses, the Don Schlimme Future Leader Award recognizes outstanding young professionals in the North American cold storage industry. The award is named in honor of Donald V. Schlimme, Ph.D, who passed away in 2012 and was a longtime member of the WFLO Scientific Advisory Committee (1983-2012) and a WFLO Staff Advisor for many of those years. He was an expert in food science and cold storage and was committed to sharing his extensive knowledge.
2020 Finalists
Ray Rodriquez, Senior Manager, Business Development, United States Cold Storage, US
Zeshan Hassan, Quality Assurance Advisor , Congebec Inc., Canada
Alexander Woolf, VP Research & Development, Lineage Logistics, US
John Long, Sr. Engineering Program Manager, Americold Logistics, US
Winners of the Don Schlimme Future Leader Award
Michael Fischer, RLS Logistics 
2019

Marquel Broussard, New Orleans Cold Storage

2018
Matt Toogood, United States Cold Storage
2017
Colin Longmuir, 

Henningson Cold Storage Co.

2016
Joey Williams, Nordic Logistics and Warehousing 
2015
How to Apply
The application process for the 2020 award is now open. Applications will be accepted through October 25, 2019.  Click here to apply for the 2020 Don Schlimme Future Leader Award.
Benefits of Participating in the Award
Finalists will compete for the Don Schlimme Future Leader Award and participate in a leadership development experiences at the IARW-WFLO Convention

In addition to the competition itself, the finalist experience at IARW-WFLO Convention includes: introductions to the Boards of Directors, invitations to exclusive receptions and dinners, leadership development activity exclusively for the finalists, a special luncheon in honor of the finalists and attended by their company leaders.

The Award Winner will receive a travel stipend up to $2,500 to attend the Global NextGen Award Competition at the Global Cold Chain Expo

Broaden knowledge and understanding of the industry

Meet industry leaders in temperature-controlled logistics 
Award Eligibility
This award is open to all North American employees of IARW warehouse member companies who:
Have demonstrated excellence in their work and potential to excel further

Have worked within the industry for a minimum of three years

Are from any section of the industry including operations, administration, human resources, engineering, accounting, business development, customer service, or management

Are available to attend the IARW-WFLO Convention

Are available to attend the Global Cold Chain Expo; should they be selected as the Schlimme Award Winner

Age 35 or under at time of competition