Member Connection
Bridge and PGIM Real Estate Joint Venture Acquire 20-Acre Site In Hialeah To Develop 300,000+ Sf Bridge Point Cold Logistics Center
MIAMI, Florida — Joint venture partners Bridge Development Partners, one of South Florida's most active industrial real estate developers, and PGIM Real Estate, the global real estate investment and financing business of Prudential Financial, Inc., today announced the acquisition of a 20.08-acre site strategically located at NW 162nd Street and NW 102nd Avenue in Hialeah, Fla. PGIM Real Estate acquired the property as part of its U.S. core plus strategy. The partnership will deliver its first South Florida project—Bridge Point Cold Logistics Center, a 312,103-square-foot speculative cold storage facility—in the fourth quarter of 2021.
"We are pleased to have acquired this prime development site for our future Bridge Point Cold Logistics Center, which represents the first-ever cold storage project to be delivered in South Florida on a speculative basis," said Kevin Carroll, Partner, Southeast Region of BRIDGE. "We look forward to delivering another world-class logistics center to meet steadily rising demand."
Brian Niven, Senior Vice President, Cold Storage at Bridge Development Partners added, "Our strategic venture allows us to capitalize on industrial real estate's hottest growing sector—cold storage. South Florida has long served as an international gateway for imported perishables from South and Central America. However, demand for temperature-controlled space is at an all-time high across the region, thanks in part to shifting consumer preferences towards fast, fresh products and online grocery deliveries."
This acquisition marks the first cold storage project in South Florida for the joint venture, which launched a $150 million national cold-storage investment program late last year, targeting $400 million in assets. This programmatic joint venture seeks value-add returns through the development of Class-A cold-storage facilities, as well as the acquisition and repositioning of Class-A/B cold-storage developments nationwide.
The Cushman & Wakefield team of Wayne Ramoski, Executive Managing Director, and Gian Rodriguez, Managing Principal of Miami and Fort Lauderdale, facilitated the transaction.
Bridge Point Cold Logistics Center is a 312,103-square-foot cold storage facility that is designed with flexibility in mind and can accommodate multiple tenants. The building features a front-load design with 50' clear heights that maximize pallet storage efficiency; 348' building depth, 39 dock-high doors, three grade-level truck ramps, an estimated 3% office finish, 207 car parking spaces, and 49 trailer parking stalls. The facility's state-of-the-art refrigeration systems provide broad temperature flexibility in all units, ranging from -10°F to +55°F, allowing the building to accommodate both freezer and cooler users. The property's prime location just south of the Miami-Dade and Broward County line, offers easy access to Florida's major transportation arteries including the Florida Turnpike, I-75 and State Road 826.
Recently named 'Developer of the Year' by NAIOP South Florida, BRIDGE has acquired 473 acres in 15 separate transactions throughout Miami Dade and Broward Counties and delivered more than 4 million square feet of Class-A industrial space across the region since entering the market in 2012. The company's current South Florida portfolio spans more than 3 million square feet.
For more information, please contact Brian Niven, Senior Vice President of BRIDGE's Cold Storage division, at (630) 626.5702.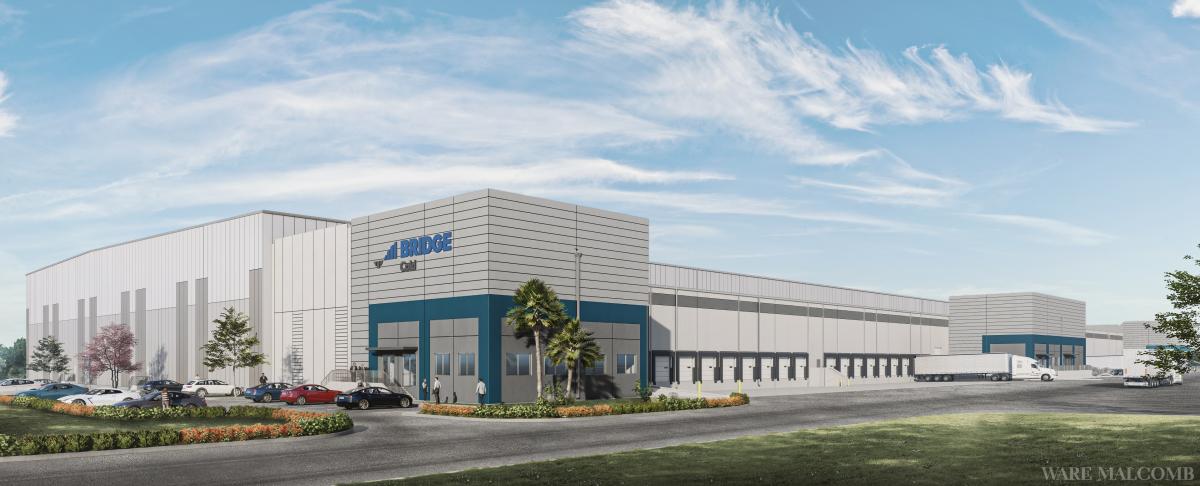 About Bridge Development Partners
Bridge Development Partners, LLC (www.bridgedev.com) is a privately-owned firm that focuses on the acquisition and development of Class A industrial real estate in the supply constrained core industrial markets of Miami, Chicago, New Jersey/New York, Los Angeles/San Francisco, and Seattle. Since its inception in 2000, Bridge has successfully acquired and developed more than 44 million square feet of industrial buildings/projects valued at more than $7.3 billion. Currently, Bridge has a strategic joint venture with investment partnerships managed by Banner Oak Capital Partners, L.P., a Dallas-based investment advisor.
About PGIM Real Estate
As one of the largest real estate managers in the world with $179.4 billion in gross assets under management and administration,1 PGIM Real Estate strives to deliver exceptional outcomes for investors and borrowers through a range of real estate equity and debt solutions across the risk-return spectrum. PGIM Real Estate is a business of PGIM, the $1.3 trillion global asset management business of Prudential Financial, Inc. (NYSE: PRU).
PGIM Real Estate's rigorous risk management, seamless execution, and extensive industry insights are backed by a 50-year legacy of investing in commercial real estate, a 140-year history of real estate financing,2 and the deep local expertise of professionals in 31 cities globally. Through its investment, financing, asset management, and talent management approach, PGIM Real Estate engages in practices that ignite positive environmental and social impact, while pursuing activities that strengthen communities around the world. For more information visit pgimrealestate.com.