Responding to Coronavirus
GCCA is working closely with our association members and leaders as well as government officials, food industry partners, and the WFLO Scientific Advisory Council to ensure members have the vital information they need to ensure business continuity during these unprecedented times.
In addition, the association staff are working to promote the critical role temperature-controlled logistics plays in keeping the global food supply chain running to ensure food products are moving to those who need it even with major restrictions in place worldwide.
STAY CURRENT:  Subscribe for updates | Access both COVID-19 and industry news here
ASK A QUESTION:  GCCA Peer Community | Ask GCCA Staff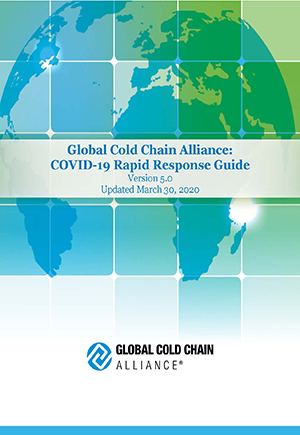 Rapid Response Guide
Version 5 (30 March 2020) -This resource document from GCCA includes guidance to respond to the pandemic in your facility. It includes FAQs, best practices and templates for communication with your customers and employees.
High-Priority Resources
Food Supply Chain (U.S.) Employee ID Template (IARW/IRTA) - PDF version | Word version (editable)
Food Supply Chain (U.S.) Employee ID Template (CEBA) - PDF version | Word version (editable)
Food Supply Chain (Canada) Employee ID Template (GCCA) - PDF version| Word version (editable)
Food Supply Chain (South Africa) Employee ID Template (GCCA) - PDF version| Word version (editable)
Plantilla de identificación del empleado de la cadena de suministro de alimentos (GCCA)-Versión PDF | Versión de Word (editable)
Plantilla Gafete para empleados de cadena de suministro México (GCCA) - Versión PDF | Versión de Word (editable)
Plantilla Carta permiso para elaborar trabajo esencial (GCCA) - Versión PDF | Versión de Word (editable)
GCCA Coronavirus Webinar Series
Archived Webinars
Additional Resources
Regional Updates
Asia
Brasil
Canada
Europe
Latin America
South Africa 
Government Notice on Lockdown Regulations (Department of Cooperative Govnerment and Traditional Affairs, 25 March 2020)
Government Notice on Disaster Management for Transport (Department of Transport, 26 March 2020)
Sample Template - Permit to Perform Essential Service (25 March 2020)
LRN Escalation Procedures (Business for SA, 26 March 2020)
Recommended Standard Operating Procedures for Agribusinesses in light of the COVID-19 shutdown (Agricultural Business Chamber, 25 March 2020)
Q&A For Business Operations During the Lockdown (Business Unity South Africa, 26 March 2020)
Payment of Employees during the COVID-19 lockdown (Business for SA, 30 March 2020)
Directive on COVID-19: implications on Basic Cconditions of Employment Act (BCEA) leave provision (Department: Employment and Labor, 26 March 2020)
Easy Aid for Employers (Deparment: Employement and Labor, UIF)
Tax Measures to Combat the COVID-19 Pandemic (Ministry of Finance, 29 March 2020)
National Crime Combating Forum: Containment and Management of COVID-19 (South African Police Service, 25 March 2020)
United States
Transportation
Small Business Guidance
Human Resources
Facility Operations
Distilleries Producing Hand Sanitizer:
Click here to see a List of Distilleries Making Hand Sanitizer to Fight COVID-19 from the Distilled Spirits Council of the United States
Click here for a map of Distilleries Making Hand Sanitizer from The American Distilling Institute
Click here for a form letter members can customize to reach out to these distilleries and make the case for selling the product to you
Security and Risk
GCCA Speaks Out on Behalf of the Industry
FAQ about Coronavirus