Hudson Global Development Fund: Zero Energy Cool Chambers for Small-Scale Vegetable Farmers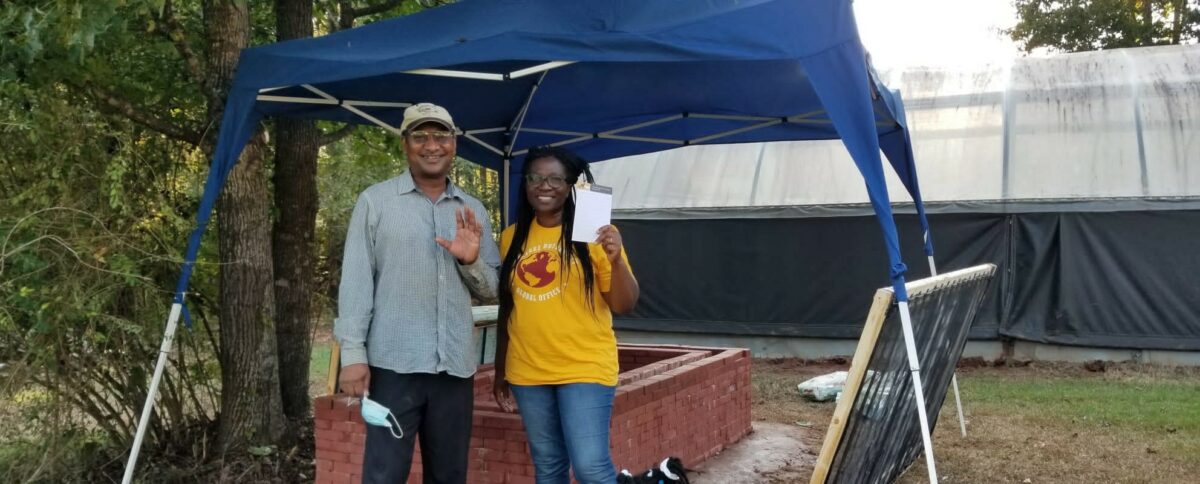 Lucy Asare-Baah, a graduate of the Postharvest Education Foundation (PEF) and WFLO e-learning program from Tuskegee University, was awarded a small grant from the Hudson Global Development Fund in 2021. The grant supported the demonstration and extension of Zero Energy Cool Chambers (ZECCs) in four counties of Alabama. Her target audience was smallholder farmers who produce small fruits and vegetable crops. She provided instruction, monitored adoption and utilization of the technologies, and measured postharvest quality, market value, and food losses.
The ZECC has been proven to retain cooling up to 11°C lower than outside air temperature, and in doing so, the chamber increases shelf life and reduces weight loss and deterioration of harvested fruits and vegetables. Two ZECCS were constructed in Macon County, one in Dallas County, and one in Bullock County. Each ZECC was constructed within a day and data was collected.
Temperature and relative humidity conditions for ambient products and ZECC products were observed enabling a comparison. It was anticipated that results would differ based on location as the humidity and temperature within the counties varied. Moreover, since the temperature at the time of construction dropped relative to that of the usual conditions from May to July, it was expected that there would be some form of variation in the data compared to that of other reports.
The ZECCs demonstrated an incredible impact on maintaining the quality of the fresh product. Ambient products had visual shriveling and shrinkage when compared to the product stored in the ZECC.
According to Lucy, the construction of these ZECCs served as means of creating the awareness needed for growers to see the relevance of addressing postharvest losses (PHLs). Creating such awareness among small-scale growers as well as other actors on the supply chain may promote not only the substantial usage of affordable technologies such as the ZECC, but also enhance productivity, a way of boosting economic/community development.
The implementation of the ZECCs is expected to be a motivation for neighboring growers to embrace the technology who could see that the ZECC benefits the appearance of produce placed in the chamber, which correlates to vegetable loss reduction.
Lucy added, "I am grateful for this funding as it has helped me to get into the community and help in a way I have always intended to. I thank my funding agencies GCCA and the Hudson Global Development Fund for their support."
Published Date
December 9, 2022
Topic
Cold Chain Development