Cold Connection
Animal Science Expert Joins WFLO Scientific Advisory Council
The World Food Logistics Organization (WFLO), a Core Partner of the Global Cold Chain Alliance (GCCA), is pleased to announce that Dr. Cody Gifford, an Assistant Professor in the Department of Animal Science at the University of Wyoming, has joined its Scientific Advisory Council (SAC) for a three-year term, occupying the open position on the committee focused on meat products. Dr. Gifford said, "Continued research to advance quality attributes and enhance safety of all food products, especially in management of livestock and meat products, is vital to the entire food supply chain. Focusing on areas throughout the global cold chain will remain paramount, particularly in these unprecedented times."
Dr. Michael Jahncke, Professor Emeritus, Virginia Tech Department of Food Science and Technology; Director, Virginia Seafood Agricultural Research & Extension Center; and Chairman of the SAC, said, "I am very pleased that Dr. Cody Gifford has joined our Scientific Advisory Council.   In addition to his expertise in human nutrition, Dr. Gifford has knowledge, skills and ability in the areas of meat science, meat safety, quality, processing, handling, storage, and more. He will be an important member of our SAC team to ensure that GCCA members continue to provide the safest and highest quality food products. On behalf of the entire SAC, I want to welcome Dr. Gifford to our team."
The WFLO Scientific Advisory Council (SAC) is an eminent group of food scientists, logistics, and packaging experts from around the world. The SAC is the preeminent source of cold chain technical information related to the refrigerated operations and the delivery of safe, high quality food and other products to consumers around the world. The council provides cutting-edge research and advice to members of the Global Cold Chain Alliance and its Core Partners. Currently, there are 17 scientists that comprise the SAC, which can trace its roots back to 1943 as part of The Refrigeration Research Foundation (TRRF), which published the first Commodity Storage Manual in 1951.
 
About Dr. Gifford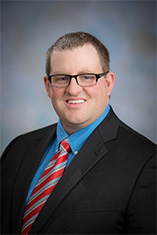 Gifford, a Registered Dietician, earned a Doctor of Philosophy, in Animal Science with an emphasis in Meat Science, from Colorado State University in 2019. His dissertation title is "Capabilities of rapid evaporative ionization mass spectrometry to predict lamb flavor and overview of feeding genetically modified grain to livestock." In 2016, he earned both a Master of Science in Animal Science and a Master of Science in Food Science & Human Nutrition from Colorado State University. His research interests include areas impacting meat quality; meat flavor and flavor development; livestock management systems; and dietary impacts of muscle foods and dietary patterns. His work has been published in several peer-reviewed journals, including Advances in Nutrition, Nutrients, Meat Science, Animal Frontiers, and Translational Animal Science.
See a list of all WFLO SAC members.