Member Connection
Magnavale Announce Construction of the UK's Largest and Most Efficient Cold Storage Unit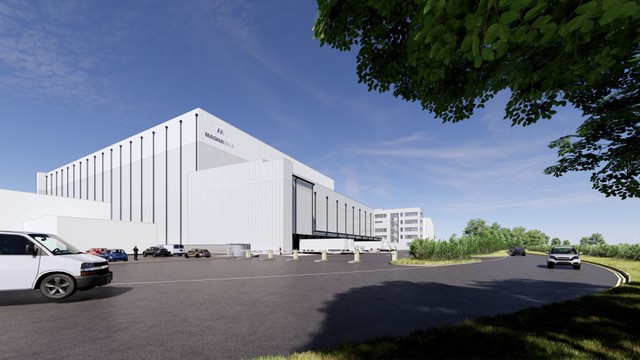 16 March 2021 - Magnavale, a UK leader in temperature-controlled storage and added value services has announced that it has secured both planning and funding to construct a single, fully automated cold store with a capacity of 96,000 pallet spaces.
Being built as an entirely new store, rather than joined onto an existing facility, the store will be the largest ever built in the UK.
Given the power requirements of a facility of this size, special attention has been paid to the supply of energy for the site and Magnavale is proud to announce that its new cold store based in Easton, Lincolnshire, will not only be Europe's most efficient cold storage facility, but also run entirely on renewable energy.
Environmentally responsible brands seeking to minimise their carbon footprint on the path to UK Net Zero, will now have a simple choice when it comes to the greenest option for their supply chain.
Construction of the project will create 230 jobs over 2 years, creating employment and boosting the local economy during a key period of recovery from the Covid-19 recession, and following that period of construction 300 jobs will be created on a permanent basis to operate the facility going forward.
Magnavale Chief Operating Officer Amanda Cogan commented, "The new store in Easton will play a key role in the future of our business and the cold storage sector more generally. Whether it is in terms of operational efficiency or carbon efficiency, our new facility will set the standard for the next generation of cold stores.
The food industry and the UK more generally demand more from us as a key link in the supply chain, and we intend to live up to our mission statement of offering retailers and manufacturers alike the opportunity to shorten, simplify and de-risk their supply chains, while also delivering a significant saving in their carbon footprint."
Combining over 30 years' experience in food manufacturing with cutting edge technology and processes, Magnavale is one of the UK's leading temperature-controlled food specialists. Operating Europe's largest Microwave up-tempering facility at its Chesterfield headquarters as well as being the UK's largest supplier of blast freezing services, Magnavale leads the way within the sector in terms of automation, thought leadership and food manufacturer partnership.
"At Magnavale we believe that manufacturers should be free to do what they excel at, creating the amazing products that the market demands. Therefore, we strive to facilitate a supply chain that is as short as possible, to provide a full range of services that cut cost, risk, and complication. We want our clients to think of us as reliable partners, as a collaborative extension of their own business."
Magnavale media contact - Shane Meharg
General inquiries contact – Magnavale