Opening General Session | 9:00 a.m. – 10:30 a.m.
Welcome & Opening Remarks
Brian Lynch, Executive Director, CEBA & EVP, GCCA
Marko Dzeletovich, Founder & CEO, ColdBox Builders & CEBA Chairman
Keynote Presentation: The BIG Future: The Mega-Trends that Define Transformative Opportunities and Demand Bold Thinking!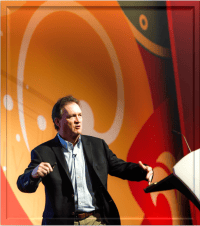 Jim Carroll, Futurist, Author & Innovation Expert
The future demands that you think BIG, be bold, and pursue opportunities. The only way to do this is to understand the "megatrends" that are defining our future, the disruptive opportunities they present, and the industry, skills, and business model opportunities they provide. We are now seeing so much change that our new reality is this: companies that do not yet exist will build products not yet conceived, with materials not yet in existence, using methodologies not yet developed - and these will be sold to consumers who do not yet know that these new products and services will become a critical part of their life!
You will come away with new strategic leadership insight that will help you see disruptive trends, focus on opportunities, unlock creativity, enhance your speed, accelerate innovation and deliver on growth opportunities!
General Session | 9:00 a.m. – 10:00 a.m.
Details coming soon!
General Session | 4:00 p.m. – 4:45 p.m.
Details coming soon!
Closing General Session | 10:00 a.m. – 10:45 a.m.
Details coming soon!
2:45 p.m. – 3:45 p.m.
Sustainability & Regulations:  Implications for Controlled Environment Building Industry
CEBA members have all felt the impact of the new requirements in blowing agents. Other conditions related to carbon emissions have just started to hit the US but are much more advanced in other parts of the Globe. On the other hand, many owners will be on a continued path to lowering their emissions and will be pushing the industry for solutions in this respect. Understanding these two perspectives can help CEBA members better position themselves to help owners prevent their buildings from being stranded assets in the future and, most importantly, partner with them on a path to a zero emissions-built environment
Presenter: Natalia Rizzatti, President, All Weather Insulated Panels
Don't Kill your Golden Goose- Protect & Perpetuate your Business
Is your financial house in order? Discover the tools you can use to become invincible to lawsuits, save thousands in taxes, and achieve financial peace of mind. By the end of the presentation you will know how to:
1) Protect 100% of your assets from lawsuits. You will learn how to make yourself so unattractive to a plaintiff attorney that they will never pursue a lawsuit against you.
2) Save thousands of dollars each year in taxes. You will learn five tax reduction strategies most people fail to utilize, which could save you more than $10,000 each year in taxes.
3) Avoid probate and eliminate all estate taxes. You will be taken through a checklist of items that are important to every estate and business succession plan. You will learn what you should be doing now to prepare for successful business and estate succession..
Presenter: Larry Oxenham, Author, Senior Advisor
9:00 a.m. – 9:45 a.m.
Speculative Cold Storage: Trends, Challenges and Opportunities
Speculative Cold Storage has drawn the attention of industrial real estate developers and investors in the past few years. But can speculative cold storage really meet the needs of the cold chain? In this session we will explore trends in speculative design, share what it's like working with developers new to cold storage, and examine the challenges facing this emerging market.
Presenter: Kate Lyle, NCARB, Director Industrial Cold and Food, Ware Malcomb
Cold Storage Goes Green: Achieving LEED Certification on Cold Storage Projects
As the refrigerated and frozen food industry embraces sustainability and LEED certification, design and construction firms are keeping pace with in-house services devoted to achieving those goals. This session will focus on how cold storage providers can meet the changing demands of a growing market by exploring LEED certification.
Monday, November 13th
11:00 am - 12:30 pm
The Construction Café is a roundtable discussion component of the program where attendees will participate in valuable dialogue with their peers. Participants will engage in up to 3 fast-paced, 20-minute discussions and choose from over 8 different topics.
How will this work?
Each participant will receive a list of 8 different questions, topics, and/or issues. Each topic will correspond to a numbered table in the ballroom. Participants join the table/topic of their choosing and spend the next 20 minutes discussing that topic with their peers. The goal is that in 20 minutes each group will share tools, ideas, and have a stimulating conversation about a particular topic. That will happen two more times. By the end of the entire session, each participant will have spent 20 minutes with 3 different topics/issues/questions.
Why are we doing this?
The Construction Café allows CEBA conference attendees the chance to share and discuss relevant topics important to them. Everyone will be sure to learn something new and carry on the discussion throughout the conference.
Who will facilitate the discussions?
We have chosen a group of your peers to facilitate the discussions. As a table facilitator, their role will be to keep the conversation flowing. They will start the conversation, possibly lead it, direct it, guide it, encourage it, but not talk the entire time (this isn't a presentation).
Topics for the Construction Café will include:
Supply Chain Disruptions & Dynamics
Refrigeration Regulations
Peer to Peer Executive Discussions
Monday, November 13th
1:30 pm – 2:15 pm 
Peer-to-Peer Roundtable discussions are meant to be an interactive, fast paced exchange of ideas and best practices on topics that are important to you. Attendees will be broken down into one of the following categories so that they can have robust conversations with their peers.
View Showcase Participants
Networking Hub & Supplier Showcase
Designed to offer conventioneers a place to meet, relax and recharge, the Networking Hub & Supplier Showcase is open daily and located in a central location. Wondering where to meet peers or partners, look no further! The Hub includes refreshments, lounge seating and meeting tables to be utilized by attendees. The Hub also plays host to the Supplier Showcase where attendees can connect with the top industry solutions providers and stay informed on new automation solutions, equipment, technology, construction trends and other industry solutions to innovate their businesses.
The Networking Hub & Supplier Showcase will be accessible and open during the following times. Focused Supplier Showcase times are outlined below, which will be the primary and busy hours for Showcase Participants.
Saturday, November 11: 1:30pm- 7:30pm
Sunday, November 12: 8am-7pm
Monday, November 13: 7:30am-5:45pm
Tuesday, November 14: 8:00am-11:00am
Networking Hub & Supplier Showcase Hours:
| Activity | Date | Time |
| --- | --- | --- |
| Expo Set-Up | Saturday, November 11 | 1:00 p.m. – 5:00 p.m. |
| Opening Night Reception | Saturday, November 11 | 6:00 p.m. – 7:30 p.m. |
| Breakfast in the Expo | Sunday, November 12 | 8:00 a.m. – 9:00 a.m. |
| Networking Break in the Expo | Sunday, November 12 | 10:30 a.m. – 11:00 a.m. |
| CEBA Networking Reception | Sunday, November 12 | 6:00 p.m. - 7:00 p.m. |
| Breakfast in the Expo | Monday, November 13 | 7:30 a.m. – 9:00 a.m. |
| Networking Break in the Expo | Monday, November 13 | 10:00 a.m. – 10:30 a.m. |
| Lunch in the Expo | Monday, November 13 | 12:30 p.m. – 2:00 p.m. |
| Happy Hour in the Expo | Monday, November 13 | 4:45 p.m. – 5:45 p.m. |
| Breakfast in the Expo | Tuesday, November 14 | 8:00 a.m. – 9:00 a.m. |
| Expo Breakdown | Tuesday, November 14 | 9:00 a.m. – 11:00 a.m. |