The 27th European Cold Chain Conference will address topical issues pertaining to third-party temperature-controlled logistics, highlight current trends and outlook for the future. Leading industry and business experts will share their knowledge and thoughts, ideas, and solutions.
Thursday, 11 April 2024
Opening Plenary Session| 9:00-10:15
Keynote Presentation: Global Supply Chain Strategies & the Future of Logistics | John Manners-Bell, Founder and CEO of Transport Intelligence Ltd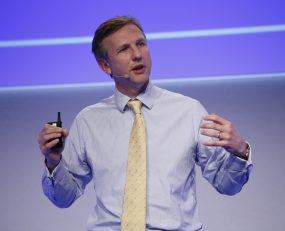 Welcome Remarks | Julie Hanson, European Director, GCCA
GCCA Europe Update | Joris Olbrechts, Chairman, GCCA European Logistics Council and Director, Jogrex and Jodifrost
Plenary Session| 11:00-12:15
Trends in the Cold Chain | Panelists TBA
Reducing Carbon Emissions on Frozen Food | Georgios Tetradis-Mairis, Head of Research & Development Futures, NOMAD Foods
Plenary Session| 13:30-15:00
GCCA European Advocacy Initiatives | Panelists TBA
Reducing Trade Barriers | TBA
Friday, 12 April 2024
Closing Plenary Session| 11:15-12:15
Closing Remarks | Julie Hanson, European Director, GCCA
Keynote Presentation: Economic Landscape & Food Consumption Trends | TBD
Thursday, 11 April 2024
Education Sessions | 15:45-17:00
Implementing Sustainability Initiatives in Cross Modal Cold Chain | Sofie Lindegaard, Head of Sustainability, DFDS
Building Performance & Energy Efficiencies
Friday, 12 April 2024
Education Sessions | 9:15-10:30
Reducing Food Waste and Implementing Sustainable Food Systems
Transition to New Clean Technologies
Wednesday, 10 April 2024
The Cold Chain Café is a roundtable discussion component of the programme where attendees will participate in valuable dialogue with their peers. Participants will choose to engage in three rounds of fast-paced, 25-minute discussions and choose from six different topics.
How will this work?
Each participant will receive a list of different questions, topics, and/or issues. Each topic will correspond to a numbered table in the ballroom. Participants join the table/topic of their choosing and spend the next 25 minutes discussing that topic. The goal is that in 25 minutes each group will share tools, ideas, and have a stimulating conversation about a particular topic. That will happen two more times. By the end of the entire session, each participant will have spent 25 minutes with 3 different topics/issues/questions.
Who will facilitate the discussions?
We have chosen a group of your peers to facilitate the discussions. As a table facilitator, their role will be to keep conversation flowing with a table of 10 participants. They will start the conversation, possibly lead it, direct it, guide it, encourage it, but not talk the entire time. (This isn't a presentation.)
Why are we doing this?
Event participants will get a chance to share and discuss relevant topics important to the cold chain industry. Everyone will be sure to learn something new and may even be inspired to try this at one of their company meetings!
Tips for participating in The Cold Chain Café:
Contribute Your Thoughts | Focus on What Matters | Listen to Understand | Link and Connect Ideas | Think and Reflect | Listen for Patterns, Connections
Past Topics Include:
Human Resources | Market Disruptions | Building: Regulations, Fire Safety, & Automation | Sustainability and Energy Performance | New Technologies | Certification